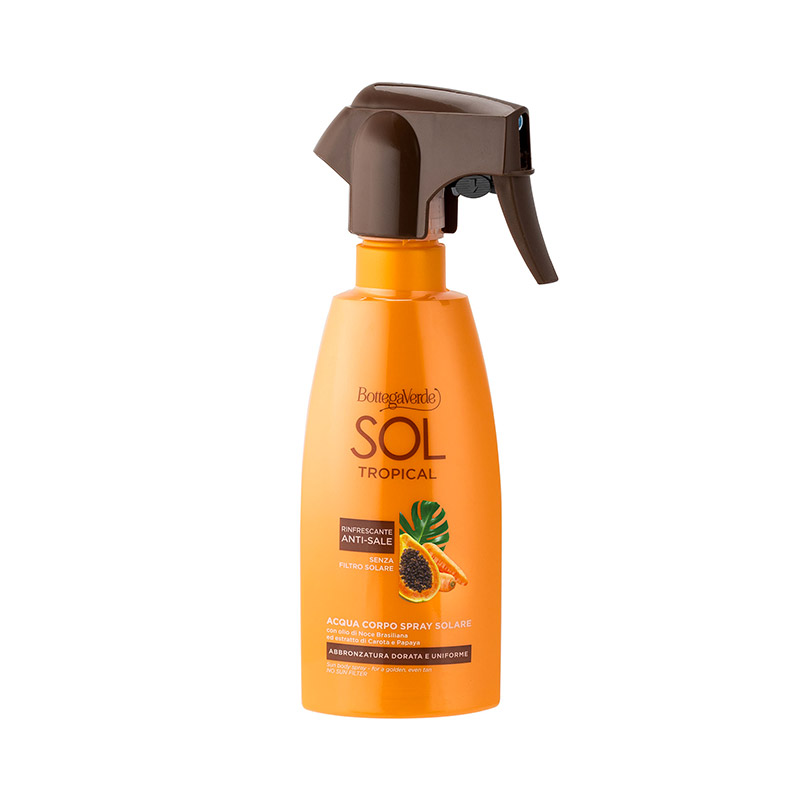 No Parabens

No Formaldehyde Releasers

No Alcohol
SOL Tropical - Sun body spray - even, golden tanning - with Brazilian Nut oil and Carrot and Papaya extract (200 ml) - no sun filter
200 ML
No Parabens

No Formaldehyde Releasers

No Alcohol
Refreshing.
Eliminates salt.

This sun spray offers surprisingly satisfying results for the skin, freshening and moisturising it and helping to alleviate the annoying tight sensation caused by salt all in one! The formula, which contains Brazilian Nut oil, has an emollient effect on the skin. The Carrot and Papaya extract in the formula, meanwhile, helps to activate, maintain and prolong your tan, and the exquisite tropical aroma offers a feeling of intense wellbeing for your senses. The handy spray bottle makes application a pleasure¿ providing a wonderful cascade of freshness for the skin!

Brazilian Nut oil: helps to keep the skin silky.
Carrot and Papaya extract: an anti-oxidising plant extract that helps to intensify and prolong your tan.


- Innovative formula: refreshes, helps to remove salt and activates tanning.
- Extremely fresh, comfortable and aromatic texture.
- Select ingredients: emollient Brazilian Nut oil, and Carrot and Papaya extract to prolong your tan.

Exalts your skin and brings out your beauty.

Tops up your tan.
Eliminates salt.
Keeps skin soft.



WARNINGS: Avoid spraying in your eyes. Do not use on the face. Avoid contact with fabrics. Not recommended for children and babies. Excessive sun exposure can severely damage your health. No sun protection factor. We recommend combining it with a product that offers a suitable protection factor for your phototype and the intensity of the sun.
How to use it: spray onto your body when necessary during sun exposure. Wash your hands after use.
Floral and tropical fragrance.
Free shipping

Credit card, PayPal, or payment on delivery

Satisfaction or your money back