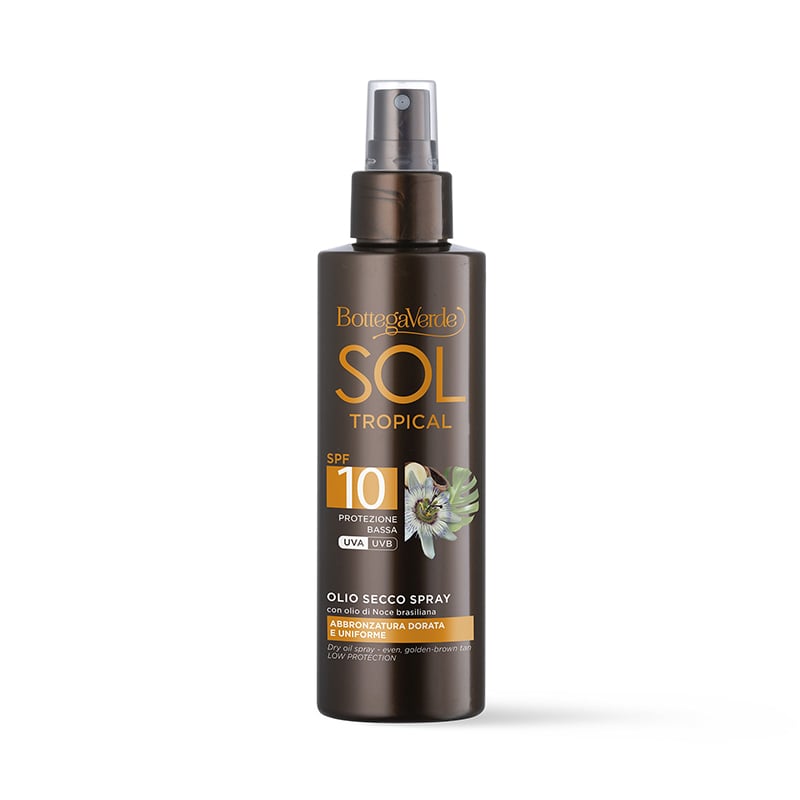 SOL Tropical - Dry oil spray - even, golden-brown tan - with Brazil nut oil - low protection SPF10 (150 ml)
150 ML
An extraordinary, light oily texture, extremely pleasant to rub over the skin, leaving it silky-soft and fragrant and protecting it from the sun, for an intense, lasting tan. The rich formula contains Brazil nut oil, which helps keep the skin soft and silky, and Vitamin E, which helps combat the oxidative stress caused by exposure to the sun. Each time you apply it, enjoy the delightful tropical fragrance with vibrant Passion Fruit notes, which makes sunbathing a truly marvellous experience.

PACK

- Intensifies the colour of already tanned skin. Intensifies and enhances your summer tan.
- Light, fragrant, oily texture, for a pleasantly silky, intensely nourishing sensation
- Selected ingredients: Brazil nut oil and Vitamin E, to help keep the skin soft and silky

WARNINGS: Avoid spraying in the eyes. Avoid contact with fabrics. Excessive sun exposure may pose serious health risks.
How to use it: spray the product on your hands and apply it generously before sunbathing. Re-apply frequently to maintain protection, especially after sweating, swimming, or drying yourself.
Free shipping

Credit card, PayPal, or payment on delivery

Satisfaction or your money back