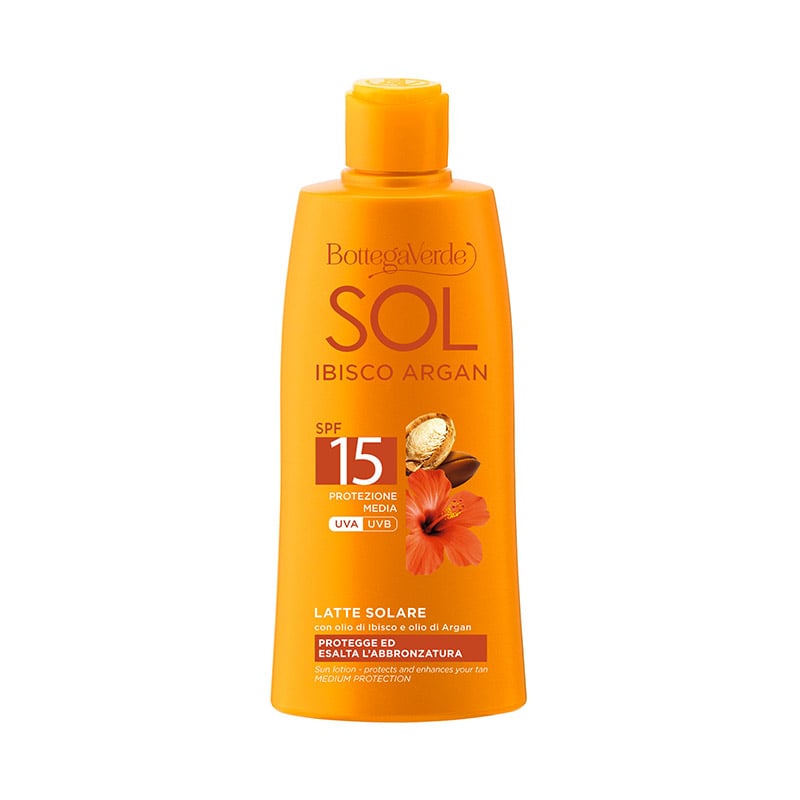 No mineral oils

No Parabens

No Silicones

No Formaldehyde Releasers

No SLES/SLS

No PEG

No Alcohol
SOL Ibisco Argan - Sun lotion - protects and enhances your tan - with Hibiscus Oil and Argan Oil - SPF15 medium protection (200 ml)
200 ML
No mineral oils

No Parabens

No Silicones

No Formaldehyde Releasers

No SLES/SLS

No PEG

No Alcohol
This lotion provides an intense, fast and long-lasting tan while also offering protection. The soft, easy to apply texture enhances your skin and releases a fresh summer fragrance. A mix of specially selected active ingredients, including Hibiscus Oil and Argan Oil, calm and nourish your skin, protecting it from the annoying dry sensation exposure to the sun can cause. Your wonderfully nourished and well-protected skin will appear even more radiant and bright.
- Sublime tanning, intense and long-lasting, and silky soft skin.
- A soft and quickly absorbed texture that is non-greasy, nourishes the skin and creates intense colour.
- Selected ingredients: Hibiscus Oil and Argan Oil in a formula that enhances the skin.

Warnings:
Avoid contact with eyes.
Avoid contact with fabrics.
Keep babies and children out of direct sunlight.
Excessive sun exposure can severely damage your health.
Do not stay out in the sun for too long, even if you are using a sun protection product.
How to use it: apply the product generously before exposure to the sun. Reapply frequently to maintain protection, especially after sweating, getting wet, or drying yourself off.
Free shipping

Credit card, PayPal, or payment on delivery

Satisfaction or your money back