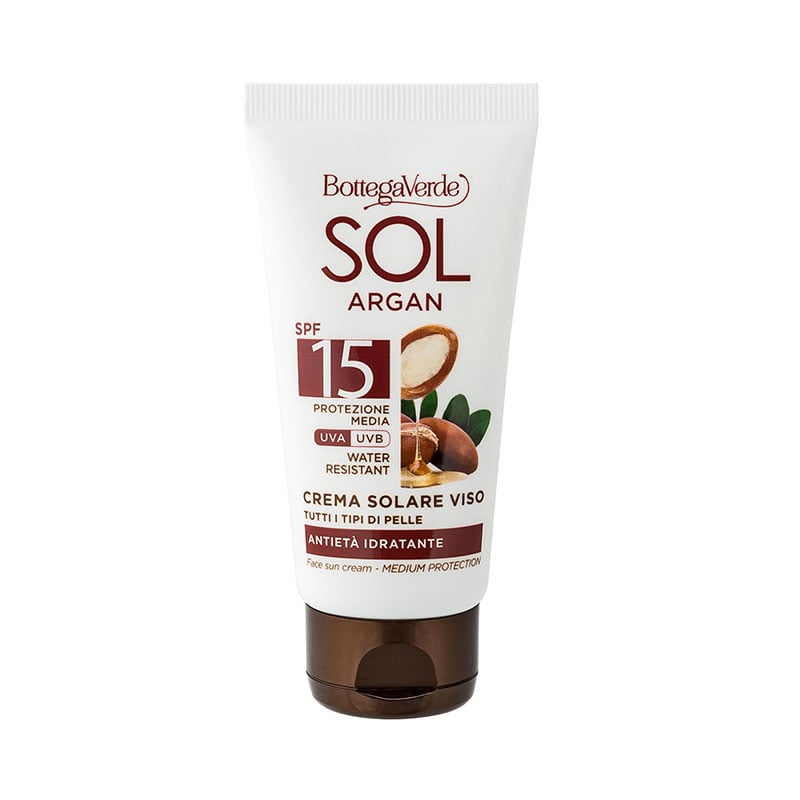 No mineral oils

No Parabens

No Silicones

No Formaldehyde Releasers

No SLES/SLS

No PEG

No Alcohol
SOL Argan - Face sun cream - anti-aging and moisturising - with Argan oil and Hyaluronic acid - SPF15 medium protection (50 ml) - all skin types
50 ML
No mineral oils

No Parabens

No Silicones

No Formaldehyde Releasers

No SLES/SLS

No PEG

No Alcohol
A cream specifically designed to protect the face, and for achieving a quick and even tan. It boasts a special formula that helps the skin to stay soft and moisturised. Its velvety and silky texture makes it a pleasure to apply, and leaves your skin feeling wonderfully soft. The Hyaluronic acid moisturises your skin, whereas the Argan oil has a restorative effect.
Protect your skin and enhance your beauty
Rapidly absorbed
softens your skin
Moisturises when you are out in the sun

- Targeted protection for a quick and even tan.
- Its ultra-silky texture provides your skin with a feeling of sublime softness every time you apply it.
- Selected ingredients: Hyaluronic acid to moisturise your skin, and Argan oil for its anti-oxidising and restorative properties.

Warnings:
Avoid contact with eyes
Avoid contact with fabrics
Keep babies and children out of direct sunlight.
Excessive sun exposure can severely damage your health.
Do not stay out in the sun for too long, even if you are using a sun protection product.
How to use it: apply the product generously before going out in the sun. Reapply frequently to ensure you stay protected, especially after sweating, getting wet, or drying yourself off.
Free shipping

Credit card, PayPal, or payment on delivery

Satisfaction or your money back