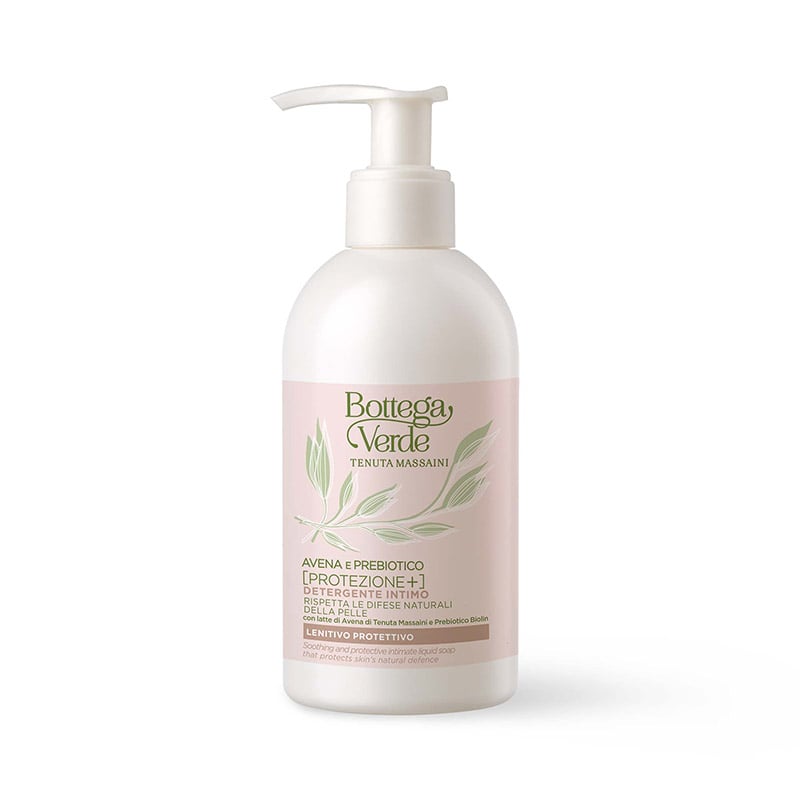 No mineral oils

No Parabens

No Silicones

No Formaldehyde Releasers

No colourings
Special Price
Avena e Prebiotico [Protezione+] - Intimate liquid soap - respects skin¿s natural defence - with Oat milk from Tenuta Massaini and Biolin Prebiotic (250 ml) - soothing and protective
250 ML
No mineral oils

No Parabens

No Silicones

No Formaldehyde Releasers

No colourings
Fragrance-free physiological pH formula that combines the soothing action of Oat Milk with the protective action of Biolin, a prebiotic sugar extracted from Chicory root. This ingredient creates a protective barrier against harmful bacteria in all situations where protection is most required and helps prevent dry skin, aiding the well-being of intimate areas.

PACK

Delicate and soothing physiological pH formula, thanks to the Oat milk. Uses the barrier effect of Biolin, a prebiotic extracted from Chicory root, to keep bacterial flora balanced and promote intimate wellbeing.

- Dermatologically tested on sensitive skin
- Tolerability tested in vitro on a SkinEthic model
- Oat Milk: extracted from the Oats that flourish on Tenuta Massaini, it has moisturizing and soothing properties.
- Biolin: a prebiotic derived from Chicory root that protects vaginal flora, creating a protective barrier.
How to use it: ideal for daily feminine hygiene. Dilute the product with water and rinse thoroughly. EXTERNAL USE.
Free shipping

Credit card, PayPal, or payment on delivery

Satisfaction or your money back