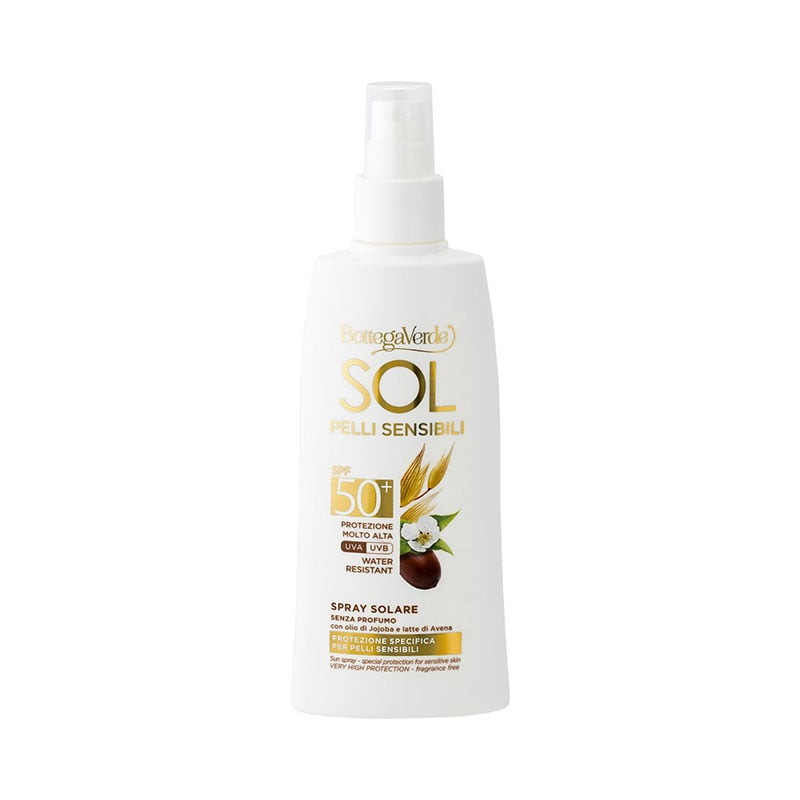 No Parabens

No Silicones

No Formaldehyde Releasers

No Alcohol

No Fragrance
SOL sensitive skin - Sun spray - fragrance-free - protection specifically for sensitive skin - with Jojoba oil and Oat milk - very high protection SPF50+ (200 ml) - water-resistant
200 ML
No Parabens

No Silicones

No Formaldehyde Releasers

No Alcohol

No Fragrance
This sun lotion comes in a practical spray format and provides broad-spectrum protection for delicate and sensitive skin. It forms an invisible film that offers optimal protection during the first seasonal sun exposure and when the sun is particularly intense. Its fragrance-free formula minimises allergy risks, thanks to ingredients, such as Jojoba oil and Oat milk, selected for their mildness, and leaves your skin hydrated and wonderfully soft under the sun. Its texture makes it easy to apply and provides immediate comfort even to irritation-prone skin.

Oat Milk: rich in sugar, it helps maintain the skin¿s hydrolipidic film, thereby promoting optimal hydration.
Jojoba Oil: ensures nourishment and softness to even driest and most dehydrated skin.
- Broad-spectrum protection for the most sensitive, redness- and irritation-prone skin
- Ultra-fluid, silky, and light texture for a particularly pleasant application

Protect your skin and enhance your beauty
Mild formula
Makes your skin soft and hydrated
Soothes your skin


WARNINGS: Avoid spraying into eyes. Avoid contact with fabrics. Keep babies and children out of direct sunlight. Excessive sun exposure can severely damage your health. Do not stay out in the sun for too long, even if you are using a sun protection product.
How to use it: apply the product generously before exposure to the sun. Reapply frequently to maintain protection, especially after sweating, getting wet, or drying yourself off.
Free shipping

Credit card, PayPal, or payment on delivery

Satisfaction or your money back