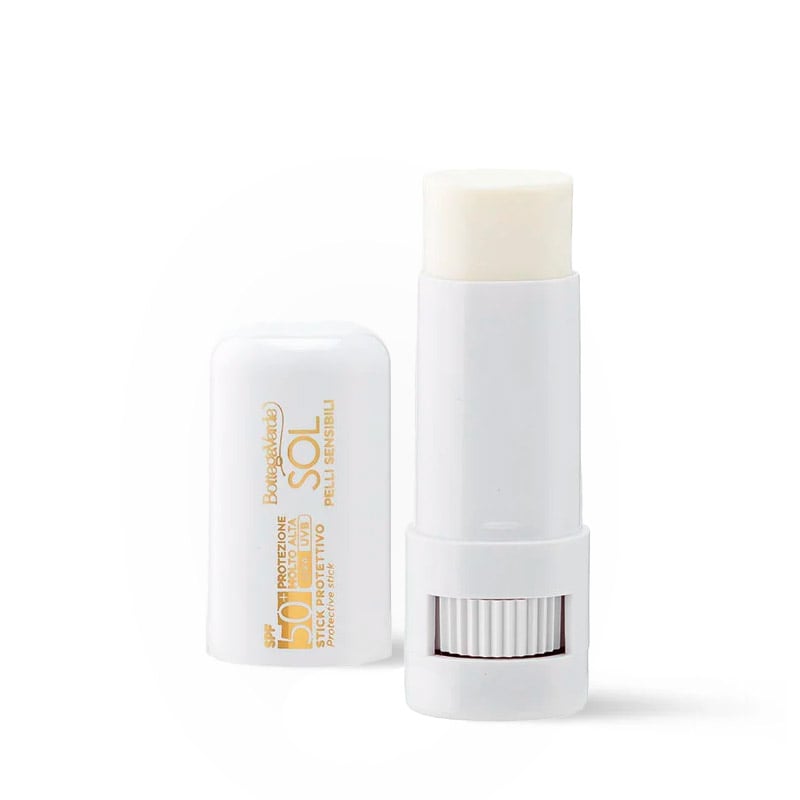 No Parabens

No Alcohol

No Fragrance
SOL pelli sensibili - Protective stick - barrier effect - special protection for sensitive skin - with Jojoba oil - very high protection SPF50+ (9 ml) - water resistant
9 ML
No Parabens

No Alcohol

No Fragrance
Broad-spectrum protection for the most delicate areas of your face and body, such as moles, scars, or spots. Essential for delicate skin. Applied repeatedly to the delicate areas, it leaves an invisible film with a barrier effect. Formulated with select ingredients, including Jojoba oil, which has a gliding texture that makes it easy to apply. The practical stick format allows you to carry it with you wherever you go.

Jojoba Oil: ensures nourishment and softness to even driest and most dehydrated skin.
- Broad-spectrum protectionfor the most delicate areas of your face and body
- A gliding texture for pleasant application
- Select ingredients: Jojoba oil for nourishment

Protect your skin and enhance your beauty
Mild formula
For protecting the critical areas of your face and body
Practical stick format

WARNINGS:
Avoid contact with eyes
Excessive sun exposure may pose serious health risks
Cosmetic sunscreens with very high protection factors do not guarantee full protection from UV radiation.


How to use it: apply to the interested areas before and during sun exposure. Apply again frequently to maintain protection.
Free shipping

Credit card, PayPal, or payment on delivery

Satisfaction or your money back