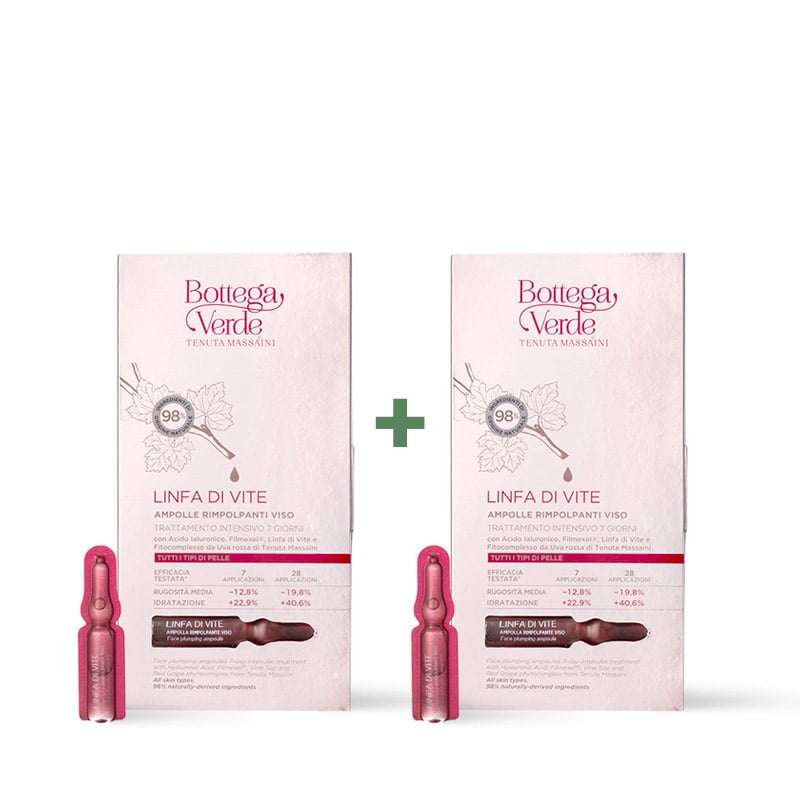 Face plumping ampoules - An intensive 7-day treatment with Hyaluronic Acid, Filmexel, Vine Sap and Red Grape phytocomplex from Tenuta Massaini (7 ampoules) - all skin types
-70%
€ 18,00
Price reduced from

€ 60,00

to


Your youth re-activator treatment:

Action
An intensive, ultra-concentrated 7-day treatment - Intensive plumping, moisturizing, and redensifying effect - Formula with a high concentration of active ingredients - Practical single-use ampoules to preserve all functional ingredients - No fragrance

98% naturally-derived ingredients
TESTED EFFECTIVENESS
1 APPLICATION: MOISTURE LEVEL +11.22%* - AVERAGE WRINKLEDNESS -9.97%*
7 APPLICATIONS: MOISTURE LEVEL +22.96%** - AVERAGE WRINKLEDNESS -12.80%**

High molecular weight Hyaluronic Acid: this natural ingredient obtained through biotechnological fermentation penetrates in depth to restore skin volume and firmness and smooth the superficial layer of the dermis for softer and more supple skin.
Filmexel: this multi-purpose natural polymer forms a strong yet flexible barrier against pollution. It has an instant lifting effect and an effective long-term anti-wrinkle effect.
Vine Sap: this prized elixir is extracted directly from vine shoots and it is only tapped at the time when the buds are growing. It preserves and nourishes the vitality of cells in the epidermis, sustains the biodiversity of the microbiota and thus helps the skin to work as a barrier.
Red Grape phytocomplex from Tenuta Massaini: produced from Grape skins in a sophisticated bio-liquefaction process, it has an antioxidant action that is three times more powerful than our Red grape extract.
PACK

An intensive and concentrated plumping treatment in 7 single-use ampoules to improve the appearance of tired, loose, dull skin. A few drops contain a high concentration of active ingredients that penetrate into the deepest layers of the skin. The Hyaluronic Acid in the formula (1%) will make your skin more hydrated, firmer, and smoother from the first application. Day after day, this product targets thin lines and signs of ageing, ensuring a visible plumping effect.
How to use it: morning and evening after cleansing your skin. Flick the cap of the ampoule so that all the product falls in the ampoule and then snap it open. Pour the product into the palm of your hand, and massage it on your face, neck, and décolleté. Let absorb and then continue your routine by applying Linfa di Vite face cream. Use as an intensive 7-day treatment when your skin needs it most (changing of the season, stress, sleep deprivation). Repeat the treatment at least once a month or every day (for no more than one month) for a daily redensifying and moisturizing effect.
Free shipping

Credit card, PayPal, or payment on delivery

Satisfaction or your money back
-70%
€ 18,00
Price reduced from

€ 60,00

to