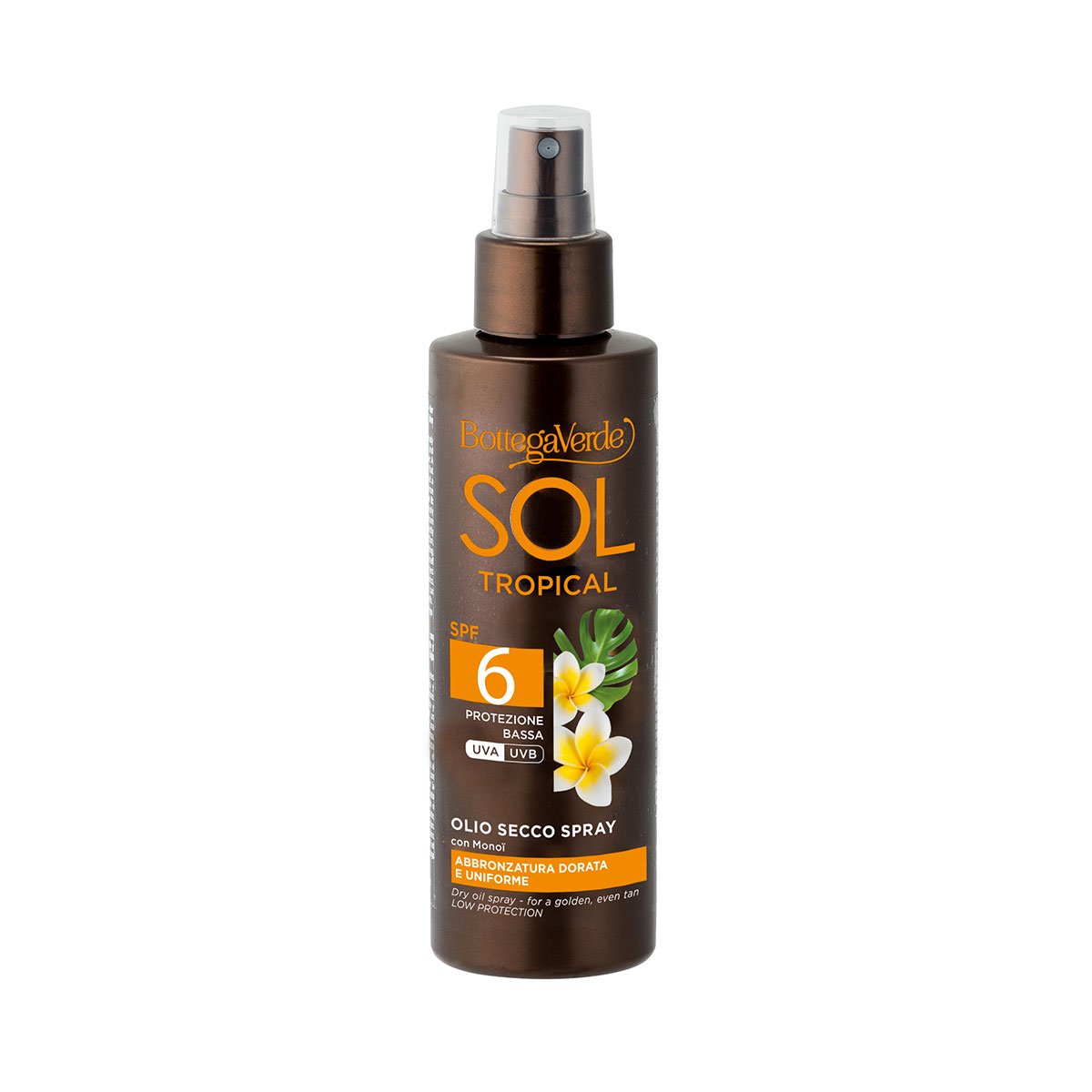 SOL Tropical - Dry oil spray - even, golden tanning - with Monoï - SPF6 low protection
150 ML
An extraordinary, light oil, extremely pleasant to apply, which nurtures the skin, leaving it silky and aromatic, and protects it from the sun, producing an intense and long-lasting tan. The rich formula contains Monoï, Argan Oil, to help keep the skin soft and elastic, and Vitamin E, which helps to fight the stress caused by exposure to the sun. The sublime symphony of aromas, which mixes the sensual notes of Black Vanilla with the ultra-sweet scent of Tiarè Flower, takes the senses on a journey of pure pleasure, further emphasising the wonderful sensation of sun on bare skin.
- Intense tanning for already tanned skin. Intensifies and exalts the colour of summer.
- A light and aromatic oil that offers velvety pleasure and a sensation of intense nourishment.
- Select ingredients: Monoï, Argan Oil and Vitamin E, helping the skin to remain soft and smooth.

WARNINGS: Avoid spraying into eyes. Avoid contact with fabrics. Keep babies and children out of direct sunlight. Excessive sun exposure can severely damage your health.
How to use it: apply the product generously to your body before sun exposure. Reapply frequently to maintain protection, especially after sweating, getting wet, or drying yourself off.
Exotic floral and vanilla fragrance.
Free shipping

Credit card, PayPal, or payment on delivery

Satisfaction or your money back