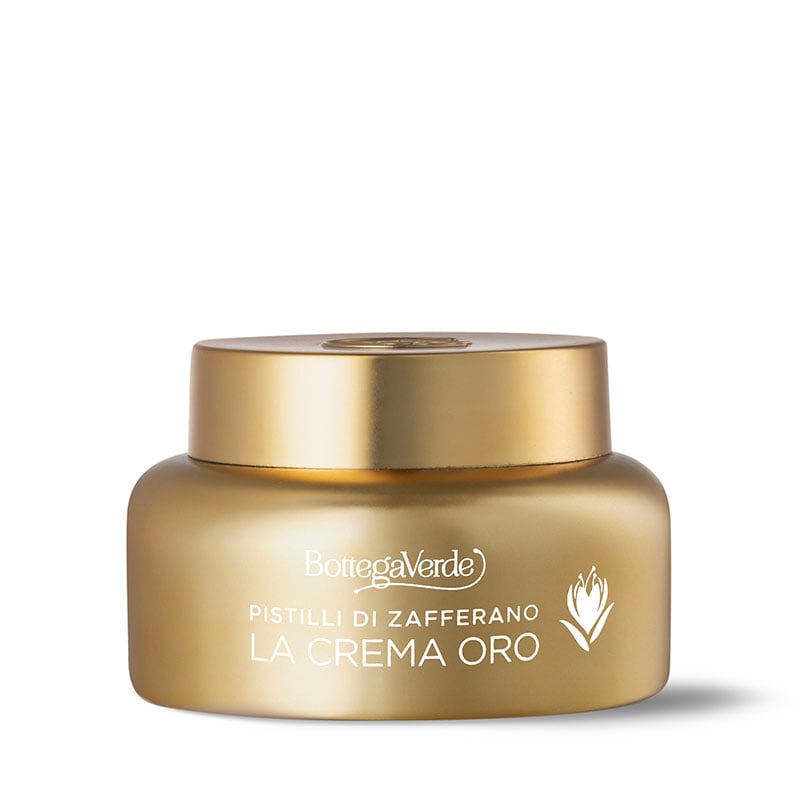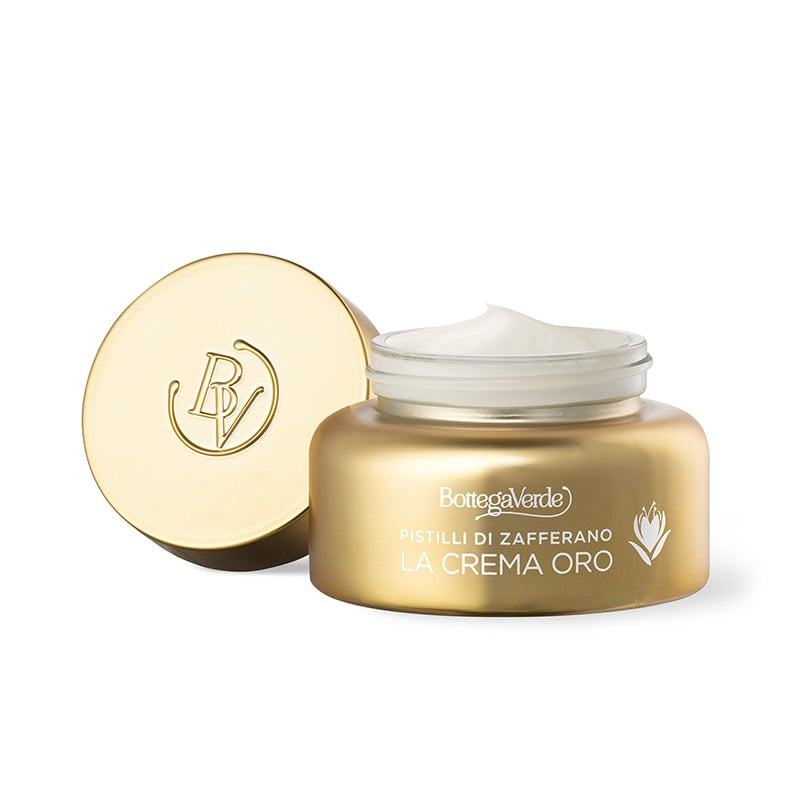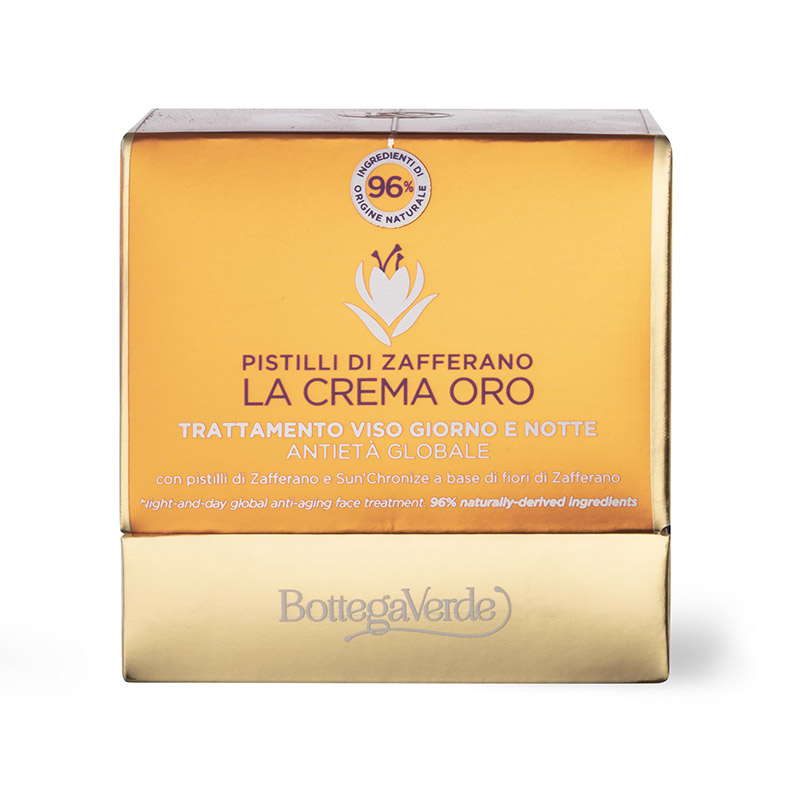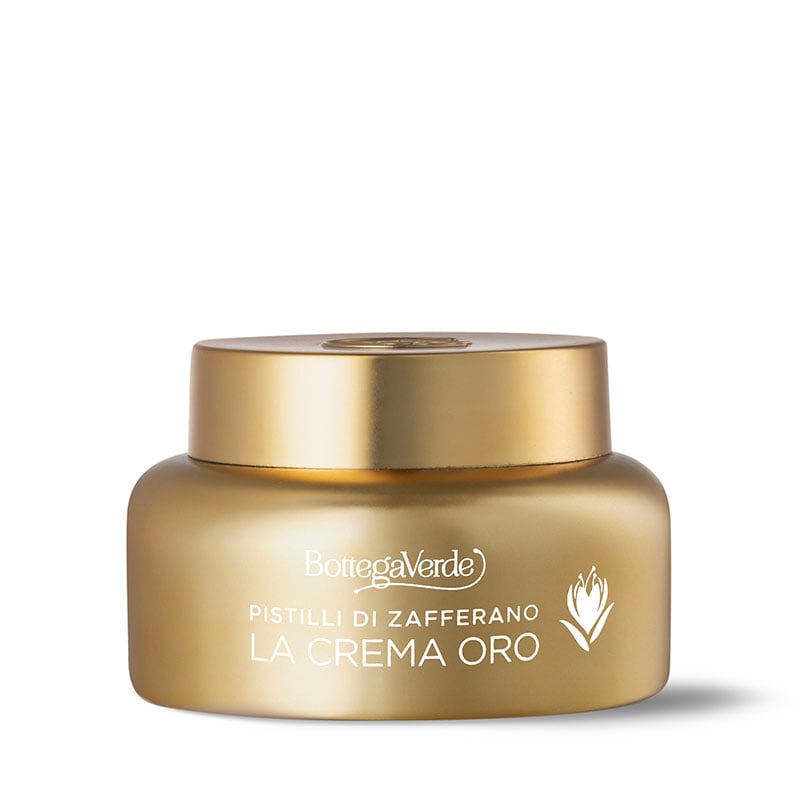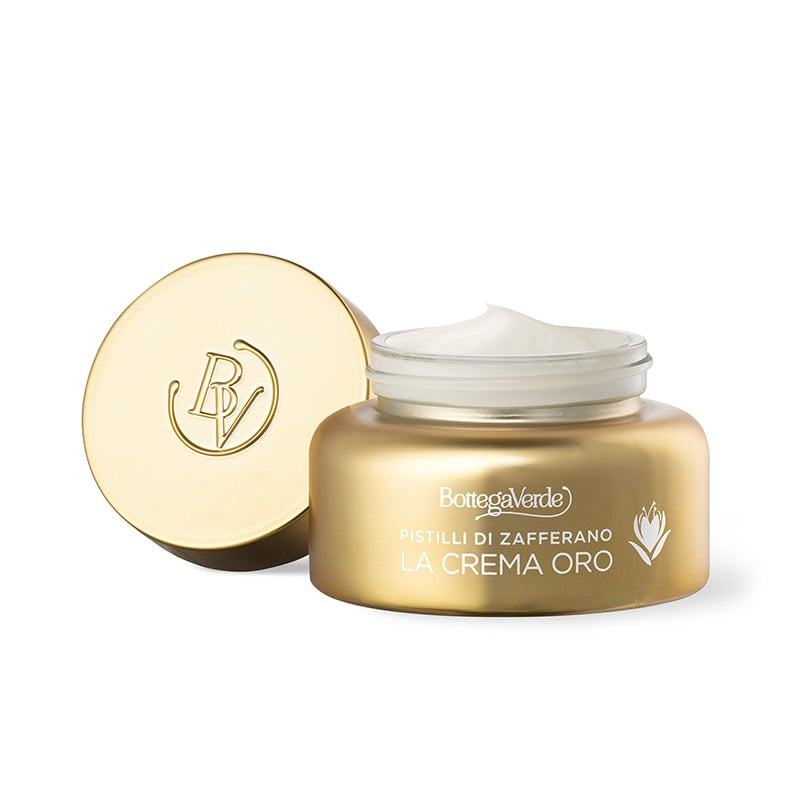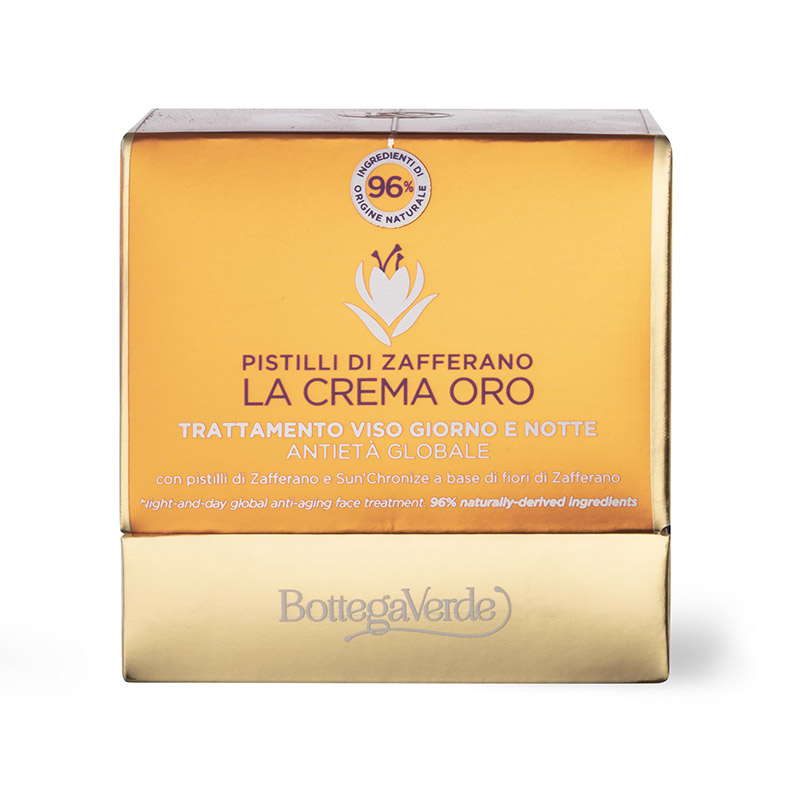 No mineral oils

No Parabens

No Silicones

No Formaldehyde Releasers

No PEG

No Alcohol

No colourings
Best Seller
Pistilli di Zafferano - The Golden Cream - Night and day face treatment - global anti-aging - with Saffron threads and Sun'Chronize containing Saffron flowers (50 ml) - all skin types
50 ML
-51%
€ 29,99
Price reduced from

€ 62,00

to
Last 30 days price 62,00€
No mineral oils

No Parabens

No Silicones

No Formaldehyde Releasers

No PEG

No Alcohol

No colourings
IMPORTANT: THE PACK TEXT SHEET HAS THE CODE 1685750

Actions

- Resynchronizes your skin's natural rhythm and helps it keep its vitality 24/7: protects during the day and repairs at night
- A global, 10-way anti-aging treatment: anti-wrinkle, smoothing, redensifying, elasticizing, protective, antioxidant, brightening, nourishing, moisturizing, enhancing
- Revives the naturally rosy glow of your skin

The following results were noted after 6 weeks of treatment:
- 33.4% average decrease in forehead wrinkles
- 20.5% average decrease in glabellar lines
- 21.6% average decrease in nasolabial folds
- 32% average decrease in laugh lines

*Clinical trial and instrumental evaluation performed on 20 women for 6 weeks

Active ingredients

- Sun'Chronize: an active ingredient derived from Saffron flowers, with an innovative chrono-protective effect: it helps resynchronize the natural biological processes of the skin (circadian rhythms), which are crucial for its health and beauty.
- Saffron Threads: known as red gold, saffron is famous for its anti-aging properties. The pistils, the most valuable part of the flower, are rich in antioxidant phytocomplexes, as confirmed by numerous scientific studies.
Nasturtium flower extract: helps fight oxidative stress caused by free radicals, protecting the natural barrier of your skin and giving it a renewed glow.
Yellow blossom wax: a blend of three waxes (with Jojoba, Mimosa and Sunflower) that act on the skin's microrelief, maintaining hydration and providing nourishment.

96% naturally-derived ingredients

A treasure trove of benefits for your skin, able to defend its beauty and vitality with intense global anti-aging action. Its innovative, rich and multifunctional formula works night and day, 24/7, adapting to the rhythms and needs of your skin at various times of the day to fight the main signs of aging. This global action owes its effectiveness to a careful, meticulous selection of specific active ingredients. Sun'Chronize, an active ingredient derived from Saffron flowers, has an innovative chrono-protective effect: it helps regulate the skin's circadian rhythms, the biological clock that synchronizes the body's physiological processes and repeats every 24 hours. In this way it keeps your skin vital and protected during the day and repairs it at night. The precious Saffron threads have an antioxidant effect, defending your skin from the free radicals that cause signs of aging. Brightening pigments improve skin tone and radiance for instant, glowing beauty. Its incredibly rich, melting texture works in synergy with your skin for an immediate sensation of comfort; each application gives a satisfying softness and nourishes, moisturizes, silkifies and soothes the skin.
How to use it: use your fingertips to apply the cream, moving delicately from the bottom of your face upwards and from the centre outwards. This application method and the effects of the cream will help to keep your skin in optimum condition.
FLORAL, SPICY, MUSKY - SWEET
COMPLETE YOUR BEAUTY ROUTINE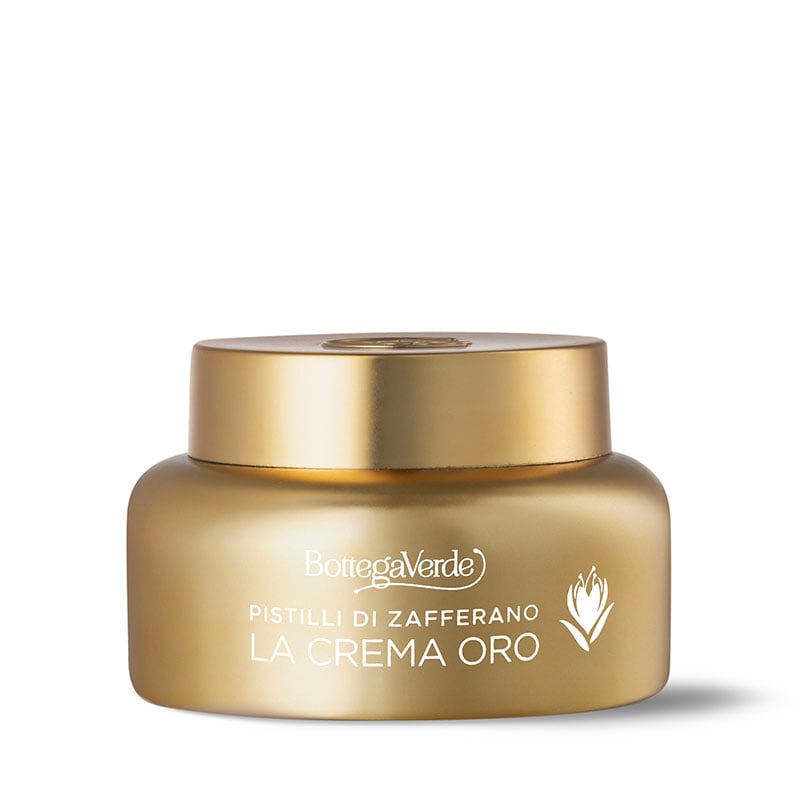 Pistilli di Zafferano - The Golden Cream - Night and day face treatment - global anti-aging - with Saffron threads and Sun'Chronize containing Saffron flowers (50 ml) - all skin types
50 ML
-51%
€ 29,99
Price reduced from

€ 62,00

to
Last 30 days price 62,00€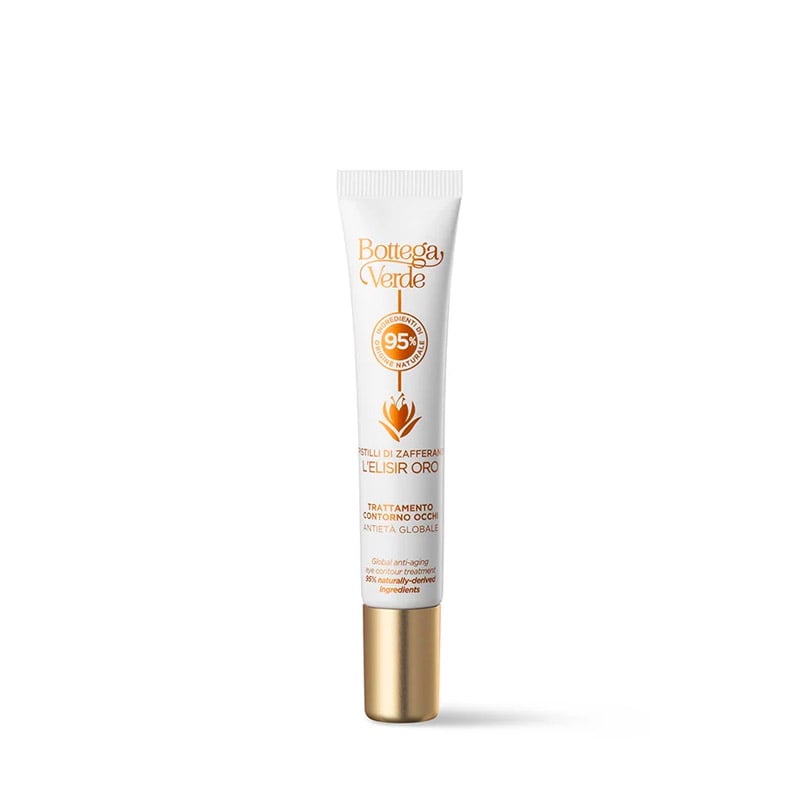 Pistilli di Zafferano - The Golden Elixir - Global anti-aging eye contour treatment - anti-puffiness and anti-dark circles - with Saffron thread extract and Inolixir (10 ml) - all skin types
10 ML
-50%
€ 14,99
Price reduced from

€ 30,00

to
Last 30 days price 30,00€

Free shipping

Credit card, PayPal, or payment on delivery

Satisfaction or your money back
-51%
€ 29,99
Price reduced from

€ 62,00

to
Last 30 days price 62,00€